Zamolio bih vas da ovaj topic bude malo ozbiljnij,jer je tema vrlo zanimljiva ako se udubite u nju.Hvala na razumevanju.
Takodje,zamolio bih vas da na ovom topic-u ima sto manje spam-a,naravno,to vazi i za sve ostale topic-e koje bilo ko od nas otvori,ali za ovaj posebno.Jos jednom,hvala na razumevanju.
E sad,o cemu se radi?
Neki znaju,neki ne,neki su culi,neki videli,ali cinjenica je da postoje karte koje su ogranicene na vrlo male brojeve,ne samo na 3000 primeraka,ili na 1000 primeraka,ili na oko 500 koliko ima Dark End Dragon-a (ako se ne varam) vec na brojeve sitne kao 30,15,pa cak i na 1!
Ne verujete?Pa malo progooglajte i videcete da nije sve izmisljotina.
Evo necega sto mnogi znaju,Tyler:
Tyler Gressle, 14, knows a lot about being a warrior. In October 2002,
he was diagnosed with undifferentiated embryonic sarcoma. It was
discovered when he complained of pain. His parents took him to the
doctor, then to a surgeon. During surgery, the doctors discovered that
the mass had burst, which caused the terrible pain. The surgeon removed
25 percent of Tyler's liver, about 6 inches of large intestine and his
gall bladder. Tyler's prognosis was not good. Fortunately, his doctor
had seen a case once before and had been successful in treating the
patient. "After a long, hard battle, Tyler is perfectly healthy now,"
his mother said. "We want other families to know they can have hope, and
wishes do come true." Tyler had another wish fulfilled. The Make-a-Wish
Foundation learned of Tyler and his family's battle and gave him the
chance to design his own Yu-Gi-Oh! card for 4Kids Entertainment Inc. The
foundation's goal is to present each child, along with their family,
with a happy experience to help them feel normal in the midst of a
difficult time. "All I needed was a pencil and my imagination," Tyler
said. His detailed drawing depicts a warrior deflecting an evil
monster's terrible weapons. They unveiled the final card on Aug. 5th.
Tyler and his family were also invited to New York City to meet with
officials from 4Kids Entertainment Inc. and were given a tour of the
Yu-Gi-Oh! facility.
Postoje 2 mogucnosti,ili postoji samo 1 ova karta,ili,kako je neko sa YGO Wikia Talk Page rekao,4 - Jedna u Tylerovom Decku,jedna kod njegovih roditelja na regalu kao ukras,jedna na mestu gde se cuva po jedan primerak svake karte koje je konami napravio ( lolwut? XD) i cetvrta...nemam pojma gde.... XD
Po talk Page-u postoji mogucnost da je postojala samo 1 i da je unistena!
A ima i ovog:
http://www.pojo.com/yu-gi-oh/COTD/2010/Jul/12.shtml
And check this shit out!
http://www.facebook.com/profile.php?id=100001229323327
________________________________________________________________
Legendarni the seal of Orichalocos!
Dugo se smatralo da ovo ne postoji,ali postoji tacno 15 primeraka i svi pripadaju nekim tipovima iz UDE(ko zna koji su,moze da pojasni,pa cak i imena da da).
Dugo se smatralo da je cak i ovo laz,ali slike se nalaze i na YGO wiki,tako da se moze videti da stvarno postoji.
Misterija je sta se desilo sa tim kartama od kako je konami pereuzeo stvar u svoje ruke.
Takodje,postoji teorija da je konami preuzeo sve poslove UDE-a zato sto su ti UDE tipovi koristili The Seal of Orichalcos kako bi ljudima uzimali duse,sto je procenjeno kao ilegalno.
Evo teksta prekopiranog sa yugioh wikia:
This card
does exist
. There are only 15 copies in existence, all in the possession of members of
Upper Deck Entertainment
's R&D division, who used them in the Decks they played in the Orichalcos "
Duel the Master
" side event at previous
National Tournaments
. The current status of these card's are unknown, as they haven't been used since
Konami
reclaimed distribution and organization rights.
To je sto se tice ove karte.
Neki bi rekli:"Pa shta? To je samo jedna karta. Koga briga?"
Ali,nastavak sledi:ovo NIJE jedina karta!
Nastavak teksta iznad:
There are other cards like this that are kept from the everyday person. "
Power Balance
" is rumored to be one, as is a copy of "
The Winged Dragon of Ra
" with the Hieratic text in place of the flavor text.
Power Balance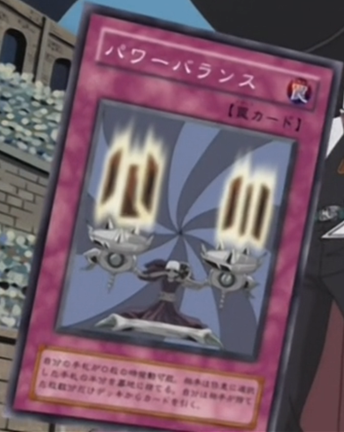 Karta koju smo videli u anime-u.
Zasto bi neko imao tu kartu? Postoji mnogo razloga.
Verovatno je Konami zeleo da napravi pravu Power Balance kartu za OCG,ali su iz nekog razloga mislili da je prejaka,ili tako nesto,tako da su proizvodnju iste brzo obustavili i sacuvali par karata koje su odstampane.
Nema mnogo informacija o ovome na wikia ali ako neko zna nesto,neka kaze.
Uz to,sta je sa alternativnom verzijom the Winged Dragon of Ra koja ima onaj tekst umesto efekta?
Zasto je bilo ko to napravio ako bi samo krio od javnosti?
_________________________________________________________
Jos jedna karta o kojoj trebamo diskutovati je ova:
http://yugioh.wikia.com/wiki/The_Creator_God_of_Light,_Horakhty
Za ovo imamo vise materijala:
Citat sa Talk Page-a:
Did you know that there are 10 different versions of this card? It has already been made.
Big Boss 0
22:14, 9 March 2007 (UTC)
Jedna stvar je sigurna,ovo POSTOJI.Jos jedan post koji to potvrdjuje je:
None of which are legal... --
Pcouw
03:19, 11 March 2007 (UTC)
Znaci,postoji ali je ilegalna.
Idemo dalje:
Par postova sa talk page-a:
Well aware of that they all have (This card cannot be used in a duel)
at the bottom. However they were given as prizes for several
tournaments that took place between June 2005 and August 2006.
Big Boss 0
22:14, 11 March 2007 (UTC)
So do you have images of these fabled cards? If so please upload
them if they are from official tournaments and given by UDE/Konami. --
Pcouw
01:03, 12 March 2007 (UTC)
I wish I had them but no. But I do have the card effects.
Big Boss 0
01:50, 12 March 2007 (UTC)
On a side note these cards were
not
sponsored by Upper
Deck Entertainment. They were given as prizes at Konami sponsored
tournaments between June 2005 and August 2006.
UDE sponsored? Only Konami had a hand in making them. Also the
attribute of the card is wrong. It is a Divine attribute monster like
the other 3 God Cards.
Big Boss 0
13:50, 13 March 2007 (UTC)
I found this on the site a while back and it got deleted. I have no idea
if this is fake or not so please do not flame me.
I will get more leads on The Creator God of Light, Horakhty as I get
more time to search on the web and type on here. Do not blame me if this
is the one klemenkin put up before. If any of you could identify this
as any of the Horus Forms mentioned below by another user that would be
great. This is the FUSION Form.
User:LiLJonJon94
18:41, 23 January 2008 (UTC)
File:HIRcopy.jpg
I am sorry klemenkin but that card is fake. It was part of a create a card contest on MSN.
Big Boss
13:59, 30 May 2007 (UTC)


I am not talking about the current on on the article page I am talking about the one that you put on this talk page. Big Boss 19:17, 30 May 2007 (UTC)

Evo neceg malo interesantnijeg,neko tvrdi da postoje 3 i da ih je osetio u duelu:
I have recently faced this card at a Konami sponsored tournament. This
thing is more unbeatable than The Seal of Orichalcos, and I have already
gone against that one; you are sorta wrong about this monster. There
are 3 versions of this card. The first one is a monster with an Effect
Monster border. It may only be Sp. Summoned by removing the Egyptian God
Cards from play on your side of the field. The second version is a
fusion monster. It's effect for fusion summoning mirrors XYZ Dragon
Cannon. The Last one is a Ritual Monster. I cannot remember the name of
the Ritual Magic Card however at the top of it the card says "The
activation of this card cannot be negated." These 3 Horakhti the Creator
of Light cards have the following effect. Please note that I have
omitted the summoning requirements because I already described them.
Evo nekog ko je izgleda imao ovu kartu:
From June 2005 to August 2006 10 non Upper Deck copies of the Creator
of Light Horus were created. They were awarded to the winners of ten
tournaments that took place within this time period. I have been able to
find the effects of these ten cards and I happen to own one. Whether
the winner of the tournament still owns the card is unknown. I will try
to list the winners of the ten tournaments and the version that they won
on this site as soon as possible. I have an incomplete list and might
post it soon for the heck of it. These cards all have 14 stars at the
top and the name of the card is in white at the top of the card instead
of black. They are all parallel rare. They should also have the back of a
normal OCG Yu-Gi-OH! card. That is about all I have for a description.
Shared Horus Effects
: This card may only be special
summoned by removing from play "Obelisk the Tormentor", "Slifer the Sky
Dragon", and "The Winged Dragon of Ra". The summoning of this card
cannot be negated. This card cannot be destroyed as a result of battle
of or affected at any time by Magic, Trap, and Monster Effects. This
card may not be offered as a tribute.(The ATK/DEF of this card is
infinity unless otherwise stated.)
1.
Attack Horus(ATK)
-The DEF of this card is equal to the number of cards in your graveyard times 3000. (This card has infinite ATK points.)
2.
Defense Horus(DEF)
- The ATK of this card is equal to the number of cards in your graveyard times 3000. (This card has infinite DEF points.)
3.
Speed Horus(SPD)
-This card must attack before any monster on your side of the field can attack. The attack of this card cannot be negated.
4.
Resistance Horus(RES)
-All damage involving this card is reduced to 0. (This card has ATK and DEF of 0.)
5.
Blackheart Horus-(ATK&DEF)
-When this card is Sp.
Summoned destroy all monsters on the opponent's side of the field. When
this card is sent to the graveyard or removed from play return it to
your deck and draw 1 card.
6.
Divine Light Horus-(ATK&RES)
-When this card is
switched from defense position to attack position destroy all monsters
on the opponent's side of the field. You may not attack the turn that
you use this effect.
7.
Swiftkill Horus-(ATK&SPD)
-When this card attacks a face down defense position monster it may attack again.
8.
Holy Shield Horus-(DEF&RES)
-When this card is
equipped with an equip card destroy all cards on the field, hand, and
top 5 cards of both players decks. (This is the only Horus that may be
equipped with equip cards even though it has infinite ATK.)
9.
Death Guard Horus-(DEF&SPD)
-When a monster attacks
this card in defense position the attacking monster is automatically
destroyed. Then you can destroy 1 card on the field regardless of
position.
10.
Counterstrike Horus-(RES&SPD)
-This monster may
only be attacked by a monster on your side of the field. When this card
is attacked your opponent holds out the top 5 cards of their deck. You
then select 1 card and guess its name. If you guess right add the card
to your hand and send the other four to the graveyard. If you guess
wrong send all five of them to the graveyard.
Evo slika ovih karata,ali te karte su najverovatnije laznjaci,ali jedna stvar je sigurna:Niko se nije mucio da nacrta creator of light-a samo da bi pravio counterfeit karte,neko je video kako izgleda prava,pa je po njoj pravio laznjake:
Ova moze biti prava,jer po opisu ima ime pisano belim slovima,ali kako nema ediciju,set number i mnoge druge stari,verovatno je laznjak
Verovatno lanjak,prosto obojena slika iz mange.
A evo neceg interesantog:
http://cgi.ebay.com/ws/eBayISAPI.dll?ViewItem&item=110625852278
http://cgi.ebay.com/ws/eBayISAPI.dll?ViewItem&item=110628056387
http://cgi.ebay.com/ws/eBayISAPI.dll?ViewItem&item=110631769177
http://cgi.ebay.com/ws/eBayISAPI.dll?ViewItem&item=110631769178
Ma da,Original Card! XDDD
Tako,sad vi kazite sta znate o bilo cemu.